Root
>
Desktop Enhancements
> Browse: O
Mon, 30 May 2016, 10:00:02 am

Take an exciting journey across the Atlantic on board Victoria, a magnificent flagship of the Royal Navy. Armed with cannons she fearlessly ploughs through rough waters. Outstanding music and truly colorful graphics will make your trip unforgettable.
Thu, 29 November 2012, 6:02:22 pm
There are thousands and thousands of stories…just by a touch, just by a look, someone became enlightened.
Thu, 29 November 2012, 4:06:05 pm
If you are peaceful the whole world becomes peaceful to you. It is just a reflection. Whatsoever you are is reflected all over. Everyone becomes a mirror.
Thu, 29 November 2012, 4:05:59 pm
Existence waits millions of years for somebody to become enlightened, and when someone becomes enlightened existence wants him to share, to spread the word, whatsoever the cost, to all those who are fast asleep.
Thu, 29 November 2012, 4:05:52 pm
Zen has become my most beloved for the simple reason that it does not create any theology. It does not bother about God. Because God is always that, God is always there. And the real concern is this, not that. here, not there. now, not then.
Thu, 29 November 2012, 4:05:46 pm
Just throw your scriptures into the river. Now you are a nobody, floating with the river, in a deep letgo. When the river meets the ocean, that meeting-point is God. The river becomes the ocean and the individual consciousness becomes the divine.
Thu, 29 November 2012, 4:05:41 pm
The moment you become knowledgeable you lose innocence. And innocence is the garden. In innocence, flowers bloom. In innocence, fragrance is released. In innocence, all is bliss. The garden is a symbol for innocence.
Thu, 29 November 2012, 4:05:35 pm
Osho is an enlightened master who is working with all possibilities to help humanity overcome a difficult phase in developing consciousness
Sun, 9 September 2012, 5:00:37 pm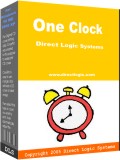 One Clock is the only clock you'll ever need. It's like a grandfather clock for your computer. One Clock is a talking clock that resides in the Windows system tray notification area..
Fri, 2 March 2012, 3:00:13 pm
"Original Clock-7" is screen saver that displays the current time. Hours is displayed in the middle by numbers and minutes as color circle segment. There is no settings.
---