Root
>
Multimedia & Design
>
Video
> Browse: F
Wed, 6 July 2016, 10:00:01 am

Free FLV and MP4 player with attractive functions as:drag and drop, save frame as image, full screen, playlist editor, supporting FLV AVI DIVX XVID MP4 MPG MPEG4 MPEG M4V MKV, FLV association, practical play, pause, rewind, fast forward and seeking
Wed, 22 June 2016, 10:00:01 am

Full Video Audio Mixer adds your favorite songs into to your video records. With this software you can quickly and easily mix video with music.
Mon, 21 December 2015, 11:00:01 am
Full Video Converter has the capabilities to convert all popular video formats from HD to HD, HD to SD and SD to SD, transform between audio formats, extract audios or pictures from videos, and create video from photos.
Mon, 17 August 2015, 3:00:01 am
Free Create photo slideshow movies and presentations for 4 steps. Support over 70 transitions.Export to youtube video, AVI, WMV, FLV, iPod Animated GIF, VCD PAL, VCD NTSC, SVCD PAL, SVCD NTSC, DVD PAL, DVD NTSC, AVCHD, video format.
Fri, 15 May 2015, 3:00:01 am
VISCOM Web Player is a free web video player for website, it is an easy and convenient way to add single or multiple video to any websites, including video share sites, online Training, Education and Distance Learning , your blog, Myspace, forum.
Fri, 5 April 2013, 4:00:08 am
Software Adda Fast youtube video downloader Free software.
Fri, 16 November 2012, 4:00:01 am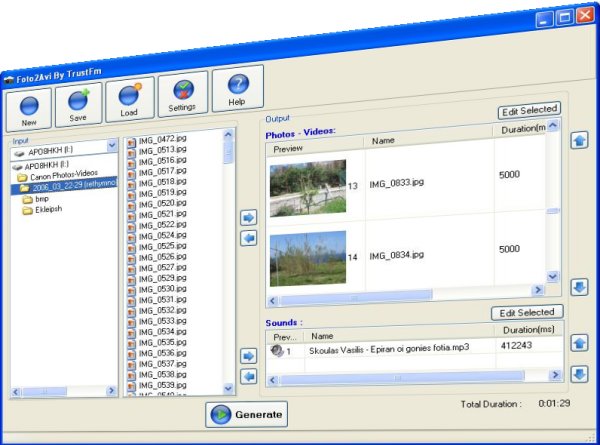 Foto2Avi is a freeware basic video/photo converter to avi/mpeg/flv. It is an video editor too. Has special effects like ... Transitions Basic Effects Advanced Effects Animations Subtitles Logos
Sat, 15 September 2012, 9:26:39 pm

Free FLV Converter aims to convert FLV on Mac. With it, you can easily convert FLV to various popular video formats like MP4, MKV, 3GP, 3G2, MP3. This freeware can support many famous devices, including iPod, iPhone, Sandisk Sansa, PSP, Nokia, etc.
Fri, 14 September 2012, 5:02:58 am
Free FLV to AVI Converter for Mac is a powerful free Mac tool. With it, users can freely convert FLV files on Mac to AVI, MP3, M4A, AAC, and other video/audio formats. After conversion, users can play the completed files on Zune, Creative Zen, etc.
Thu, 19 July 2012, 11:06:29 am
Free FLV to iPod Converter is the best choice to convert FLV files to iPod video or audio formats, like MP4, MOV, MPEG-4, H.264, M4A, MP3, AAC, and so on. It keeps free for ever, so you don't need to pay for it.