Root
>
Software Development
> Browse: H
Mon, 7 March 2016, 11:00:03 am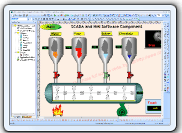 "UCanCode Software Inc. is a leading provider of HMI & SCADA, CAD, UML, GIS and Data Visualization Graphics for software developers more than 40 countries around the world!"
Wed, 11 November 2015, 1:00:02 pm

A NAT Traversal and private network (LAN) access library. It can access to a private network of computers and network equipment from another private network or public network. The advantage is no need to configure port mapping on the router.
Wed, 12 August 2015, 3:00:02 am
Binary Data and File Data Editing Software Utility for Windows. Hex Editor Neo is a basic editor for everyone who works with ASCII, hex, decimal, float, double and binary data. Large files optimized, best performance. Hex Editor Download.
Wed, 13 May 2015, 3:00:01 am
Pure Java Type 4 Cobol JDBC(1.2, 2.0, 3.0, 4.0, 4.1) driver packages for Cobol data, whichs supports COBOL 68, COBOL 74, COBOL 1985, RM COBOL, MF COBOL, IBM COBOL, COBOL II, MS COBOL, Fujitsu COBOL, ACUCOBOL, CA Realia COBOL, Open Cobol, and so on.
Wed, 13 May 2015, 3:00:01 am
Pure Java Type 4 XML JDBC(1.2, 2.0, 3.0, 4.0, 4.1) driver packages for XML documents, supports XML 1.0, XML 1.1, transaction, embedded access, remote access, memory-only database, compressed database, SAMBA database, and url datab
Fri, 31 January 2014, 4:00:01 am
HexTemplate gives you a convenient way to view binary files with a specific structure. HexTemplate includes a visual template editor. HexTemplate template editor doesn't require any special skills or knowledge of programming and script languages.
Wed, 20 November 2013, 9:00:18 pm
Is a portable troubleshooting toolkit to put on your Instant-fix usb-stick.
Mon, 11 March 2013, 4:00:05 am
Hierarchical data presentation components for Silverlight™ 4 / WPF and .NET 4
Wed, 11 April 2012, 9:00:11 am
Hyper Build enables companies, software developers and build managers to automate their software build, testing, deployment and release process. Hyper Build allows you to visually design your build process using the hundreds of built-in actions.
Fri, 16 March 2012, 8:07:13 pm
HiveMind is an optimization component, able to find optimal solutions for multi variable optimization tasks, without requiring comprehensive knowledge of optimization. Simple and quick connectivity allow HiveMind to become a compact solution, deploya