Root
>
Software Development
> Browse: U
Mon, 7 March 2016, 11:00:03 am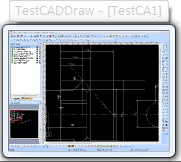 UCanCode CAD C++ Extension Library with autocad's features and all of it's complete source codes will be shipped with full edition, it also includes CAD Component and CAD OCX Control.
Mon, 27 July 2015, 3:00:03 am
Uninstall Manager ActiveX is a simple way to integrate in your software the function of reliably and effectively remove unwanted programs from your system.
Fri, 21 December 2012, 4:00:01 am

The USB Flash Drive Copy Protection Software is used for encrypting all types of data, namely pdf, doc, xls, txt, pps, psd, xml, exe, scr and so on.
Sun, 22 January 2012, 7:02:33 pm
Ultimate FTP is a 100%-managed .NET class library that adds powerful and comprehensive Secure File Transfer capabilities to your .NET applications. In addition it allow you to download, upload by file name, URL, and wild card masks, etc.