Root
>
Desktop Enhancements
>
Themes
Mon, 30 November 2020, 7:00:02 pm
Automatically change your desktop wallpaper to the Bing image of the day
Wed, 1 July 2020, 6:00:02 pm
Allows you to install your favorite lock/start screen image on Windows 10/8.1. Also, you can choose an image file folder, and the program installs a randomly selected lock/start screen image each logon. The image formats are JPG, PNG, GIF, BMP.
Mon, 29 September 2014, 12:00:08 pm
Kiwi Random Wallpaper is a small application that enables you to change your wallpapers regularly from a huge wallpaper database from the Internet. We have joined forces with WallpaperVortex.com, a big online wallpaper provider.
Sun, 17 August 2014, 5:00:04 pm
Solar beams are reflecting in surface of charming lake, the water is sparkling before your eyes. The joyful wind is playing with autumn leaves of the lovely willow. Let the tender autumn calm your feelings and warm your senses.
Wed, 7 May 2014, 11:00:02 am

Watch your desktop liquify before your eyes! Turn your desktop into a rippling pool of water with Liquid Live Desktop Wallpaper from Digital Illusions Software.
Tue, 6 November 2012, 4:05:54 am
Automatically change the Windows 8 lock screen background logon image every day. Choose a folder of images and select an interval to automatically change the Windows 8 lock screen background logon image.
Sun, 27 May 2012, 9:00:41 am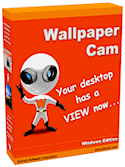 Travel without moving - on your desktop. Wallpaper Cam lets you choose your LIVE desktop wallpaper from webcams all over the world and converts them into LIVE desktop background images. Your wallpaper is constantly updated - you've got a live view!
Sat, 5 May 2012, 1:00:04 am

Four wallpapers of funny musicians (pianist, guitarist,flutist,drummer). Each wallpaper is available in three resolutions : 800x600, 1024x768, 1280x1024. Full install and uninstall support.
Sat, 4 February 2012, 5:00:11 am
"Lotus Pond" is a colorful animated wallpaper. Droplets of drizzling rain are creating tiny waves in the crystal clean water. Green, natural, enliven, beautiful. Sit back and enjoy soothing and relaxing background music and nuture's treasures.
Fri, 18 November 2011, 6:00:01 am
Enhance your photos with stylish frames and put them in the background on your computer. Impress yourself and your loved ones by having your favorite digital photos always on the desktop while being able to continue to work.
---