Root
>
Software Development
>
Source Code
Mon, 1 March 2021, 7:00:02 pm
an easy-to-use software to count lines of code in source for SQA, Project Managers and Developers. Able to count C# language. Includes total counts and percentages for comments, blanks and source lines. All reports can be exported.
Fri, 17 July 2015, 11:00:01 am

This library is used to extract the top level domain name from any URI, whatever the number of top level domain names it uses. The library has one function, tld(), returning information about the TLD and the offset where it starts in your string.
Fri, 27 March 2009, 8:37:44 pm

EXE installation package maker software produce executable file with specific company, product, name, version, registry information, custom logo, license / distribution agreement, dialog, desktop shortcuts and other relevant details from text file.
Sat, 24 January 2009, 7:48:12 pm
Do you ever wanted to protect your homepage against copyright validation? With HTML-Encrypter you can encrypt the source code of your HTML files. The files look normal in any Bowser but the source code is not human readable. Protect your Know How!
Sat, 24 January 2009, 7:37:19 pm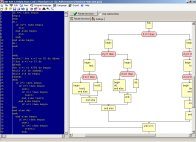 Create easy to understand flowcharts out of difficult to understand program source code. You can use this tool to document, visualize and understand source code. The program can process C, Pascal and Basic like source code (PHP, Perl, Java possible).
---